Latest Innovations in Heavy Duty Machinery
Edited by Tom Mulligan
Orders pour in for marine lifting machinery; State-of-the-art equipment installed on vessels and in ports
In the first of a series of marine industry sector reviews, MR&EN correspondent Tom Mulligan reports on the latest innovations in heavy lifting machinery technology with a selective overview of new product launches and recent equipment installations on board ships, ferries and workboats, as well as in ports, docks, harbors and shipping terminals worldwide.
Markey Machinery
Markey Machinery's Render/Recover and Asymmetric Render/Recover 'active heave' compensating winches have been recognized as a 'best available technology' for teaming with the powerful new tugs being built to serve the shipping industry worldwide. Designed to automatically maintain winch line tension between tug and tow, it allows line to be spooled off if line-pull exceeds a preset tension, with rapid retrieval automatically occurring if the tension drops below that setting. This eliminates sea-state induced 'snap loading' of the tether, a leading cause of line failure, and frees the operator to focus on the agile maneuvering required to guide rapidly transiting tankers, container ships and bulk carriers through restricted waterways.

This same technology is integrated into Markey's 'Oceanographic' offering. Deployed on board several U.S. research vessels, it interconnects handling cranes, docking heads and the research winch sensor network into the Render/Recover control system, thus enabling scientists to safely deploy equipment under a wide range of operating conditions. Designed and manufactured by Markey in collaboration with Systems Interface and Allied Marine, the combined Launch and Recovery System (LARS) and CTD Winch incorporates the Render/Recover system to deploy or land instruments automatically by pressing a single pushbutton, a feature that is unique to Markey systems. The system also automatically reduces winch speed to eliminate potential 'two-blocking' damage and, during deployment, compensates for wave-induced vessel motion to maintain package depth and position stability, reducing 'snap loading' of the wire induced by that motion. In addition, the'flagging fairlead' system reduces wire stresses found in multiple sheave arrangements. The system also eliminates the need to have line handlers leaning over the gunwales attempting to arrest a swinging instrument package, thus greatly reducing the potential for personnel injuries.

PBES: Hybrid Battery RTG Crane
Norwegian energy storage specialist PBES has installed and commissioned China's newest hybrid battery rubber tire gantry (RTG) crane in Shanghai in collaboration with China Communications Construction Company (CCCC), the world's largest manufacturer of port container cranes. CCCC's subsidiary, CCCC Shanghai Equipment Engineering Co, Ltd (CCCCSH), carried out the work on behalf of its parent company.

Low-emissions container cranes are part of the global push to reduce the environmental impact of operations. RTG container cranes are particularly well suited to hybridization: however, 24-hour use and rapid cycling combined with very large capacity for producing regenerative power mean that highly robust batteries are required for their operation. Hybrid cranes reduce fuel consumption by hundreds of thousands of liters per year compared to traditional diesel-only versions and are very effective in reducing emissions while at the same time providing significant operational cost savings.

Elebia: Automatic Lifting Clamp
Barcelona, Spain-based automatic hook manufacturer Elebia has diversified its product range with the launch of the five-ton (11,023 lb, safety factor 4:1) capacity C5 Automatic Lifting Clamp designed to lift steel plates, beams and pipes in a safe and secure manner. The launch marks the completion of an extensive research and development program centered on developing a safer method for lifting steel plates, specifically at ports. the automatic release lifting clamps are designed to be used with a linear beam and chains, and a tagline can drag them to a desired point. This new product is designed to reduce the need to pick and carry the clamps, thereby making the lifting operation safer, faster and easier, and automation takes over once the clamps are fixed to the load. The C5 combines the safety and security of a clamp with the ease of use and productivity of a claw. Elebia said that the principle advantage of the clamp, as with its range of hooks, is the removal of the requirement for personnel to gain access to rig loads manually.

Heila Cranes: Outfilling Polar RV
Heila Cranes has been selected as the supplier of marine cranes for the U.K. Natural Environment Research Council's new polar research vessel, the Sir David Attenborough, to be operated by the British Antarctic Survery. The contract covers six cranes, all offshore-rated and to be used for various purposes. The Cammell Laird shipyard in Birkenhead, U.K. is building the polar research vessel, designed for operation in both Antarctica and the Arctic. Operation of the vessel is expected to commence next year. The delivery by Heila of the main crane, a HR 2050/35-2BJ model, is expected shortly. The crane is already positioned in the testing area and is ready for pre-commissioning and Heila will ship it to the Cammel Laird shipyard in separate sub-assemblies. In addition, two HLRM 170-4SL cranes are ready for final assembly, and delivery of the remaining cranes will follow during the first half of this year. An additional seventh landing craft crane was recently added to the original contract. Heila has delivered an HLM 10-2S crane for harbor use to U.K. firm Exeter Fabrication which is building a landing craft also intended for use on the Sir David Attenborough polar research vessel. Details of the supply contract are as follows (all offshore rated unless noted.)
•One main crane, model HR 2050/35-2BJ
•Two research cranes, model HLRM 170-4SL
•One provisions crane, model HR 200/16-2BJ
•One port-side deck service crane, model HLRM 170-4SL
•One starboard-side deck service crane, model HR 300/21-2BJ
•One landing craft crane, model HLM 10-2S, for harbor use, not offshore-rated

Marine Hooks to WSF System
The Washington State Ferry system, the largest ferry system in the U.S. and the fourth-largest in the world, runs 10 routes serving 20 terminals located in the San Juan Islands and around Puget Sound, currently operating a total of 23 ferries, all of which use Cranston Eagle APR-206-CBH marine off-load hooks to launch and retrieve rescue craft. These marine hooks are very robust and reliable and have been serving the Washington State Ferry fleet for more than a decade. The Cranston Eagle APR-206-CBH hook is USCG-approved and is rated to lift two tonnes with a safety factor of six times that load. The stainless steel construction features a simple and safe lock-pin design that will only open when there is no load on the hook and the rescue craft is fully at rest in the water. Cranston Eagle hooks are widely used throughout several maritime sectors including commercial marine, offshore oil and gas, and oceanographic vessels.

They are also used extensively by the United States Coast Guard and the United States Navy because of their reliability and readily-available product support. The Cranston Eagle line of cable- and boat-mounted hooks is distributed in the U.S. by Delta T Systems, which provides sales, service, parts, load testing and recertification services for these products. Delta T Systems is an agent for Finland-based hook manufacturer Eagle Products Ky.

ZPMC: Container cranes and RTGs
Dongbang Shipping and the company's subcontractor Engineered Heavy Services have delivered two ZPMC ship-to-shore container cranes weighing about 1,600 tons each, and of six rubber tired gantry cranes to the SSA terminal in Manzanillo, Mexico from Long Beach, California. Engineering, sea fastenings, loading and unloading equipment on board the Dongbang Shipping delivery vessel were provided by EHS and the operation was completed by the company's personnel. This international project involved specialist staff from the U.S., Panama, Korea, Singapore, Mexico and Malaysia. The sea fastenings, primarily provided by EHS, included an erector set of equipment from EHS's sister company Nordholm Rentals, much of this equipment being sourced from a recently completed project in Long Beach. Bracing, loading and sea-fastening of the STS machines was completed in a very short period of only 14 days and employed a crane-moving system that was developed specially to provide maximum flexibility and deal with all types of docks and cranes, including weak docks.

RollDock Shipping Tech
RollDock Shipping recently transported 66 transition pieces to be used in the construction of a large German wind farm from Aviles, Spain to Eemshaven, The Netherlands in a shipping project that represented a major challenge as the components are 'pushing the envelope' because of the cargo weight, the lifting capacity of one crane and the available dock space, all of which needed to be utilized to the maximum. The transition pieces serve as a connection between the wind turbine and the base that is anchored to the seabed. RollDock was employed by Coordinadora Internacional de Cargas, which was responsible for the logistical part of the project, to take care of the transportation by sea of the 66 transition pieces in a vertica manner, representing a logistical challenge due to their 330-ton weight and 27.9-meter height. The company owns five dock-type vessels, all of which have the choice of three loading modes: RoRo, float-in/float-out and LoLo.

Two on-board cranes of 350 tons each were used to load and discharge all of the transition pieces using specialized equipment and keeping the rigging height as short as possible. Conventional sea fastening methods were deemed unsuitable for the safe transportation of the cargo, so a custom-made grillage design was devised by Coordinadora Internacional de Cargas in collaboration with RollDock to enable rapid turnaround times in port.

To date, 34 transition pieces have been transported from Aviles to Eemshaven in five shipments. RollDock expects to transport the remaing 32 pieces in four more shipments over the next two months to support construction of the German wind farm which is expected to be operational by the end of 2019.

Tandemloc: Emergency Gear
Lifting equipment specialist Tandemloc's 'Emergency Gear' is a versatile lifting system that consists of an adapter shoe with swivel, a sling pendant and a top lift lug that can be used to lift damaged or 'stuck' containers. Despite the many precautions and advances made in the container cargo handling industry, accidents still happen and cargo containers shift or receive damage during their transportation which can make it very difficult for spreader lifting frames to safely remove the damaged or stuck container from the transportation vehicle.

Tandemloc's Emergency Gear is designed to assist the spreader frame when container removal becomes more complex than usual. Used as an accessory attachment to a spreader frame's bayonets, the Emergency Gear's shoe swivels and provides the end-user with a 22,000 lb capacity or 88,000 lb maximum when four shoes are used with a spreader rated for such a load. Simple-to-use top lift lugs are inserted into the top corner fitting's top aperture, the swivel eye allows for a variety of sling pendants to be attached, and the shoe is locked onto the spreader frame's bayonets, making what was once a difficult and potentially unsafe lift much easier and significantly safer.

Vestdavit: Delivering for NOAA
Vestdavit, Inc., the U.S. subsidiary of Norwegian davit manufacturer Vestdavit AS, delivered two of the company's HN-9000 davit systems to the U.S. National Oceanic and Atmospheric Administration ship Thomas Jefferson based out of Norfolk, Va. The HN-9000 is a hydraulically operated dual-point davit with a 9,000 kg SWL and the two davits are being used to launch and recover two 28' hydrographic survey launches. When out on a mission, the NOAA often needs to operate survey launches on a daily basis, which means that the davits are essential equipment that support the ship's mission.

The HN-9000 davits are designed to be able to launch and recover boats in very rough weather up to sea state 6. This is accomplished by a variety of safety features in the davit design, including dual independent winches with independent constant tension. Each davit arm is outfitted with a shock absorber, which eliminates up to 80 percent of peak loads from the davit, the deck and the survey launch, resulting in a much smoother ride in the davit. Two guiding arms on the davit act as anti-pendulum devices and stabilize the survey launch during the launch and recovery process. The davit is controlled by a PLC that enables it to be operated with pre-programmed sequences, allowing the davit operator to focus attention on the boat and its crew. The davit is operated by only one person.

Vestdavit delivered its first davit system to the NOAA in 1995 and now has 20 davits in operation with the agency spread out over several ships, the HN-9000 being the most advanced davit in use in the NOAA fleet.

H.S. Marine Meets Green Challenge
With the increasing demand of the marine market for deck cranes that operate in an environmentally acceptable manner, lifting equipment manufacturers need to supply a 'Green Passport' and an inventory of hazardous materials with each piece of machinery. However, nowadays these documents are not enough: the most challenging request in today's marine industry is for a crane that operates using environmentally acceptable lubricants (EALs). Unfortunately, many EALs, even those declared as equivalent to common mineral oils, are much more aggressive against various types of components such as hoses, seals, painted surfaces and brakes, as well as to many others sensitive to biodegradable oils.

With a focus on reliability, HS.MARINE has responded to this 'green challenge' with a scientific approach: after having identified the critical crane components, a company research team working in close cooperation with suppliers of components and lubricants has established acceptable criteria for deformation and corrosion that ensure an acceptable lifespan for each crane component. As a result, all of the company's standard crane designs have been revised by replacing those components that were found to be much too sensitive to the potentially damaging effects of biodegradable lubricants. This means that HS.MARINE is now able to supply standard cranes that operate using a range of EALs without there being any concerns about compatibility issues.

In 2017, U.K. shipowner Delta Marine took delivery of a new DP2 renewables service vessel, the custom-designed type RSV3315 Voe Vanguard to service not only wind farms but also a wide range of other activities, as HS.MARINE supplied the ship with two large combined knuckle and telescopic boom cranes capable of supporting a multitude of operations: a model AKC 550 HE3, with a lifting capacity of SWL 14950 kg on a working radius of 20 meters, and its smaller sister model, the AKC 370 HE3, which has a lifting capacity of SWL 9100 kg on a working radius of 21 meters.

Built to specifications with environmental considerations in mind, the vessel meets strict requirements in terms of environmental impact. Each crane was supplied with its Green Passport and a complete inventory of its hazardous materials and, in the most challenging part of the supply agreement, the cranes were constructed to satisfy operational requirements pertaining to the use of EALs, in particular the most common problem related to the use of biodegradable oils: a reduction in the lifespan of hydraulic components and seals.

Nordholm Rentals: New Cranes for Long Beach
Raising activities for six units of ZPMC STS container cranes were recently finished for U.S. West Coast marine terminal and stevedore operator Total Terminals International (TTI) in Long Beach, California. The crane-raise system, constructed from Nordholm Rentals' 'erector set' equipment, is capable of lifting loads up to 2,000 tons and of withstanding 70 mph winds with the crane in its raised position without added bracing. This easy-erection system is capable of being moved from crane to crane without disassembly. Construction work for the project was managed by PCMC with system operation under the control of Nordholm Rentals personnel. The average raise time for the cranes was four hours.

The cranes were manufactured in China from modification steel supplied by another Chinese company: Liftech was responsible for modification engineering and Nordholm Rentals was in charge of the raise-and-move engineering aspect of the project.
The Long Beach terminal was jointly owned by Hanjin, which went bankrupt in mid-project. Funding, however, had already been set aside and the project was supported by the remaining owners, primarily Mediterranean Shipping Corporation.

Liebherr: High Performance Twins
German port handling company EPAS earlier this year received two new Liebherr mobile harbor cranes type LHM 420. Both cranes together can handle up to 248 tons in tandem lift operation. The two devices will further improve the logistic process at the Nordkai terminal in Emden, Germany.

To further increase the turnover capacity, the German port company invested in high-end mobile harbor crane technology from Liebherr. End of 2017 EPAS received two new Liebherr machines, type LHM 420, from the Liebherr maritime headquarter in Rostock, Germany. Each crane has a maximum lifting capacity of 124 tons at an outreach of up to 18 meters

This investment will significantly improve the logistic processes at the Nordkai terminal in Emden. The main driver in the decision process was the capability to do twin lift operation.

Liebherr convinced with its synchronized lifting assist system Sycratronic. The system makes it possible to operate two Liebherr cranes in tandem mode. A crane operator controls the movement of both machines that are electronically synchronized.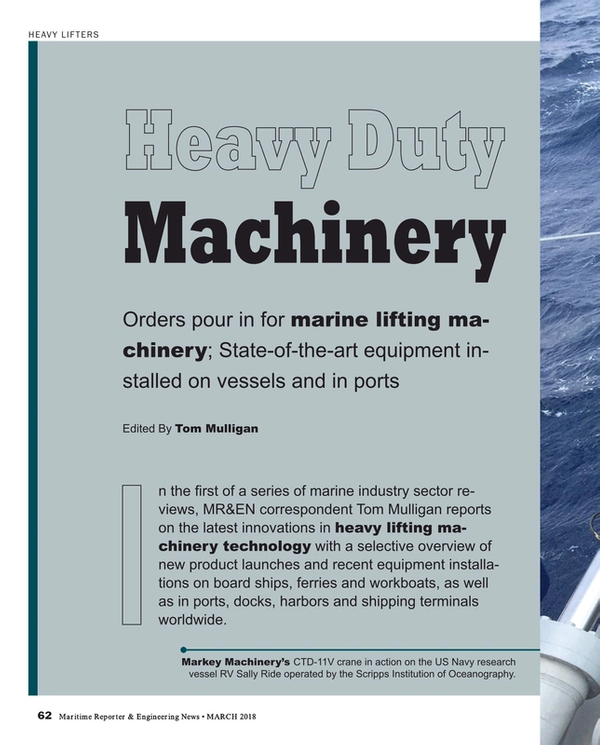 Read Latest Innovations in Heavy Duty Machinery in Pdf, Flash or Html5 edition of March 2018 Maritime Reporter
Other stories from March 2018 issue
Content