American Pride: Working Hard in the US Dredging Industry
By William P. Doyle
We have had a great first couple of months at the Dredging Contractors of America. As the new CEO and Executive Director, I have begun to visit the companies, their facilities and associated dredging projects. So far, I have surveyed the beach re-nourishment project in Ocean City, Md. undertaken by Great Lakes Dredge and Dock. I've canvassed Weeks Marine's repair and yard facility in Jersey City, N.J. In the last week of February, I visited Mike Hooks Inc.'s corporate headquarters and boatbuilding and repair yard in West Lake, La. These companies and their employees are hardworking and dedicated, striving to protect the shores of the U.S.; they deepen our channels, harbors and inland waterways; and they restore our coastal wetlands and beaches. They are all filled with American pride. I look forward to continuing the visits to dredging facilities and job sites throughout this coming year and beyond.

I value the shipping sector of the United States, beginning with my mother working as a clerk in the Quincy, Mass. Beth Steel shipyard. I worked in that same shipyard as a cadet while attending Mass Maritime Academy breaking out ships for the first Gulf War (1989-1991). Upon graduation, I served as an engineering Officer with the U.S. Merchant Marine for 11 years. Then, I served in appointed positions under two U.S. Presidents.

Beware of False Prophets
One claim I have heard recently is the "dredging industry is not part of Jones Act," an assertion pushed by certain people with their own agenda, claims we heard following visits with officials from the Ports of New Orleans, South Louisiana, Houston and Galveston. Claims have been made that the U.S.-Flag dredging industry is not included within the purview of the coastwise laws of the United States. Claims have been made that U.S. dredgers do not have the adequate capacity to start projects.

These claims are wrong on all counts, and The Dredging Contractors of America will correct these false and misleading claims. After visiting Mike Hooks Inc. in the Lake Charles region of Louisiana, I headed to New Orleans and led a diverse group of companies and organizations at the New Orleans World Trade Center to discuss the U.S.-Flag dredging industry. This delegation consisted of relevant U.S. business leaders, including executives from dredging companies, repair yards, boat builders, vessel operators and riverboat pilots. Here is what we addressed:

Dredging Industry and the Jones Act
The Dredging Act was enacted in 1906, some 14 years before the enactment of the Jones Act. The Dredging Act established that all dredges engaged in dredging shall be constructed in U.S. shipyards. The term "Jones Act" today is a clear reference to our nation's body of coastwise laws which are set forth in a single chapter of the U.S. Code (46 U.S.C. Chapter 551), entitled "Coastwise Trade." This chapter reflects the 2006 codification of the maritime laws generally and incorporates the three fundamental cornerstones of our coastwise laws: that vessels engaged in domestic trade be U.S. built, U.S. owned and U.S. crewed. Among the specific coastwise provisions included in Chapter 551 are Section 55102, which incorporates the original 1920 Merchant Marine Act governing the transportation of merchandise, and Sections 55109 and 55110, which incorporate the original Dredging Act of 1906 including the "transportation of valueless material or dredged material." Thus, the Dredging Act is an integral part of Coastwise Trade.

In 1988, Senator John Breaux of Louisiana, concerned with misinterpretations of the Jones Act, championed a Bill clarifying the transportation of merchandise. The Congressional intent to embrace dredging activities is clear by the express language in the law which codifies "merchandise" to include "valueless material" and clearly includes the term "dredged material" as merchandise covered by the Jones Act. Since then, numerous courts, including the U.S. Supreme Court, have held that dredges are Jones Act vessels and dredging activities are governed by the full suite of Coastwise trade laws and regulations.

U.S.-Flag Dredging Fleet Capacity
The U.S. Flag dredging industry has had the capacity to safely, economically and timely complete every dredging project in the United States. We have successfully deepened every port in the country as called for by our customers and will continue to do so. Moreover, the deepening projects have largely been completed well below the government estimates for the work. Most recently, major port deepening projects in Charleston, Jacksonville, Delaware River, Boston and New York were all bid well below the U.S. Army Corps of Engineers cost estimates for the work.

The U.S.-flagged dredging fleet, both private- and state-owned, totals more than 400 dredges. In 2017, the U.S.-flagged hopper dredging fleet capacity increased by 34% with the addition of two large new-build vessels built in U.S shipyards by U.S. workers. In fact, the U.S. dredging industry is amid a $1 billion-plus capital construction program. New investments include four large cutter suction dredges, two large hopper dredges and approximately 50 barges built in shipyards across the U.S.

Jobs
When it comes to the Jones Act—Louisiana is all that. Louisiana is the top State in the nation for jobs, economic output, labor compensation and value added related to the domestic maritime industry according to a study prepared by PricewaterhouseCoopers (PwC) for the Transportation Institute.
The State of Louisiana is the top domestic maritime states in the U.S. It ranks first among all states for domestic maritime jobs with 61,956.
Domestic maritime-related labor compensation exceeds $3.4 billion annually.
The total gross economic output in the State is over $14.25 billion annually. Gross output is the "sum of receipts (or sales) and other gross income generated" in the domestic maritime sector, according to PwC.
The total value added for goods and services moving by domestic waterborne transportation in Louisiana is over $5.3 billion annually. Value added represents, essentially, the gross domestic product for the domestic maritime sector in Louisiana.
Four of Louisiana's Congressional Districts are in the top 10 of all districts in terms of economic impact, accounting for over 54,000 jobs and nearly $13 billion in economic output annually.
In fact, Louisiana's 3rd Congressional Districts ranks first among all other districts in terms of domestic maritime jobs and economic impact.
Nationally, the domestic maritime industry accounts for 499,676 jobs, $29.1 billion in labor compensation, $100.3 billion in economic output, $45.9 billion in value added and $11.4 billion in taxes. There are more than 40,000 vessels in America's domestic fleet, one of the largest in the world.
Competitiveness and Costs
The U.S. dredging industry is highly competitive with more than 50 different companies awarded federal work each year and 80 different companies bidding on that work each year. U.S. industry regularly works with the U.S. Army Corps of Engineers, ports, and the environmental community, to make project execution in the U.S. safer, more efficient, more productive, while minimizing project impacts. Here are some recent quotes by experts.
"The completion of entrance channel dredging is perhaps the most significant milestone to date for the Savannah Harbor Expansion Project," Col. Marvin Griffin, Commander of the Savannah District, said. "As of today, approximately half of the Savannah harbor's 40-mile channel is deepened and better equipped to handle post-Panamax vessels. The SHEP has broad national impacts, and with this achievement, we are now halfway to realizing more than $280 million in net annual benefits for the nation."
"Completion of the entrance channel is possible because of great partnerships: Georgia Ports Authority, Georgia Department of Transportation, Great Lakes Dredge and Docks Company, resource agencies and Congress."
Next, the original U.S. government estimate for the current phase of the Jacksonville deepening project is $43,170,000. The winning bid by Dutra Dredging Company came in at $22,826,400 nearly 50 percent less than the government's estimate.
In June 2018, Jacksonville Deepening Contract #2 is scheduled to bid. Multiple dredging contractors have responded to the Corps' Sources Sought inquiry, submitting dredge availability lists for this deepening project. Multiple U.S Industry large cutter suction and mechanical dredges are available to perform this work. On January 29, 2018, the U.S. Army Corps released its estimate for the Boston Harbor deepening project and it was $166.37 million. The apparent winning bid for this project is $122.22 million by a joint venture of the Dutra Group and Jay Cashman, Inc.
The Author
William P. Doyle, CEO & Executive Director, Dredging Contractors of America. Doyle was nominated and appointed twice as a Commissioner to the U.S. Federal Maritime Commission (FMC).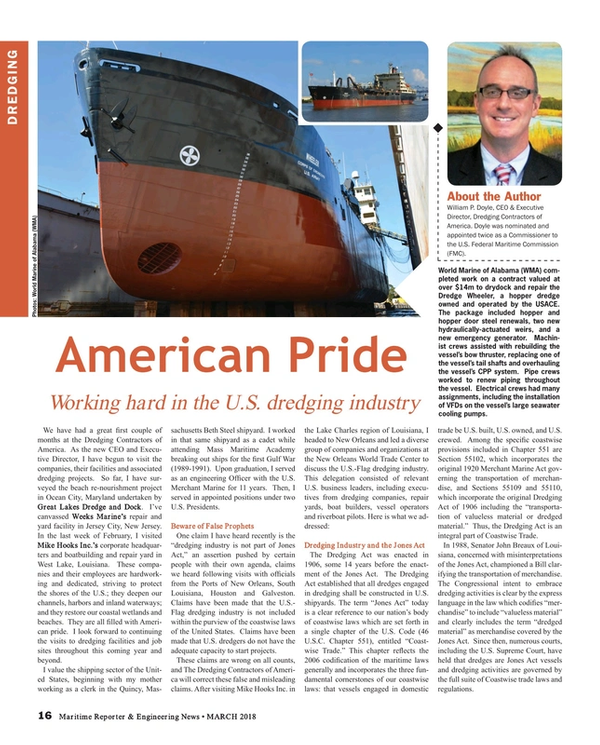 Read American Pride: Working Hard in the US Dredging Industry in Pdf, Flash or Html5 edition of March 2018 Maritime Reporter
Other stories from March 2018 issue
Content