US Navy: 355-Ship Fleet is the Mandate, Funding It is Fuzzy
By Edward Lundquist
As Congress wrestles with the budget, there is at least a bipartisan consensus that defense spending should grow, and that includes growing the Navy's fleet. The current goal is 355 ships, an admirable goal, but an objective that faces many cost hurdles.
The surface fleet (which excludes submarines and aircraft carriers) needs to grow in capability and capacity. The numbers of ships being procured or envisions would increase as the total n umber of ships increases, but the number in this story represents current program status.
Surface Combatants
DDG 1000 is a multi-mission surface combatant built from the keel up as a quiet and stealthy platform with active and passive signature reduction.
The first in the class, USS Zumwalt (DDG 1000) arrived in her homeport of San Diego at the end of 2016 and is now nearing completion of installation work in prior to activating her combat system. The plan in to conduct the testing and evaluation of her systems in 2018 and proceed and achieve initial operational capability (IOC) in 2020. USS Michael Monsoor (DDG 1001) has completed acceptance trials. USS Lyndon Johnson (DDG 1002) was 70 percent complete as of December 1, 2017 and continues construction at Bath Iron Works in Maine.
The Zumwalt class was originally planned for 32 ships. That number was cut to 24, then 12, then seven, then three, then two, then zero, and finally Congress stepped in and said the Navy would build three. Among the many unique features of this ship was a new 155 mm gun with new rocket-assisted precision ammunition. The Advanced Gun System was designed to fire the long range land attack projectile (LRLAP), and had an automatic handling system. Purchased in quantity the rounds might eventually have a reasonable price tag, but the Navy said that the cost of buying 2,000 rounds for each of the Zumwalt class ships would equal a new Arleigh Burke class destroyer.
The U.S. Navy hasn't had 155 mm ammunition for many years, and while the AGS barrel was specifically designed for the LRLAP round, Raytheon and BAE-Systems Bofors are offering a less capable 155 mm GPS-guided round called Excalibur with a significantly lower price tag and is already in production for the Army. This ship generates 78 MW of power, enough to power a small-to-medium size town – and even though it's one and a half times the size of a DDG 51– it has 1/50th the radar cross section of an Arleigh Burke.
Aegis Cruisers
The Navy still has 22 of the 27 Ticonderoga-class guided missile cruisers commissioned between 1983 and 1994. The remaining 22 ships (CGs 52 through 73) have or will undergo a modernization, but there are limitations to how many ships can be taken from service to undergo costly modernization process. One of the most important missions for Aegis CGs and DDGs today is to provide ballistic missile defense (BMD). With the accidents taking two BMD-capable Aegis guided missile destroyers out of service last year, the need to keep BMD-capable ships available for operational commitments has become even more critical.
Aegis Guided Missile Destroyers
With 65 ships delivered to the fleet, the DDG 51 Arleigh Burke-class program is one of the largest and most successful post World War II naval ship programs. With the DDG 1000 programming being limited to just three ships, the Navy has restarted the DDG 51 production line to produce Flight IIA ships at both BIW and HII, and is preparing to build a new version called Flight III. Both yards have delivered "restart" ships and are in serial production with 12 ships under contract. Initial Flight III ships have been contracted to both shipyards.
Littoral Combat Ship
The Littoral Combat Ship (LCS) program continues at a steady pace at two production yards, each building a unique design. Lockheed Martin is building the monohull Freedom-variant at Fincantieri Marinette Marine in Wisconsin, while Austal USA is building trimaran Independence variants at Mobile, Ala.
Concurrently the Navy is developing mission packages that can configure LCS for one of three focused missions: ASW. ASUW or MIW. The first was commissioning in 2008, and the second in 2010. Currently 11 LCSs have been delivered with 18 more on contract. Yet not one LCS is deployed today.
Future Frigate
While the Navy sees LCS as the best ship for those three asymmetric missions in the littoral, it also needs a multi-mission combatant that's smaller than a DDG. In other words, it needs a frigate. And that frigate will be a full and open competition, not just an up-gunned variant of one of the two LCS seaframes. The Navy is referring to the program as the FFG(X) with the mission of conducting anti-submarine warfare, surface warfare, electromagnetic maneuver warfare and air warfare. FFG(X) will fit in the "high / low" mix of surface combatant capabilities between LCS and the Aegis cruisers and destroyers. FFG(X) will operate independently or as an integral part of a task force to conduct offensive and defensive operations in the littoral and blue water environments.
The new frigate will feature the AN/SLQ-61 Light Weight Tow (LWT); AN/SQS-62 Variable Depth Sonar (VDS); AN/SQQ-89F Undersea Warfare / ASW Combat System, as well as the significant ASW capability of the MH-60R helicopter. FFG(X) will have the 57mm gun and a variety of defensive missiles, as well as offensive anti-ship missiles. The Navy is planning for a 20-ship class. In addition to the LCS designs, a number of foreign frigate designs will be considered.
Amphibs
The Navy's expeditionary ships are equipped with flight decks and aviation facilities for helicopters and vertical take-off and landing (VTOL) fixed-wing aircraft; and well decks for storing and launching their landing craft to deliver Marines and their equipment and supplies to distant operating areas to conduct expeditionary operations from the sea to the shore. These ships can deliver Marines with their vehicles, equipment and supplies in opposed landings as well as in permissive environments, such as theater security cooperation and humanitarian assistance and disaster response operations.
The come in three different sizes—big, bigger and really big.
The largest are 40,000-plus ton "big deck" amphibious assault ships – LHAs and LHA(R)s -- that can carry V-22 tilt-rotors; a variety of helicopters, and the AV-8 Harrier and F-35B Joint Strike Fighter; as well as Landing Craft, Air Cushion (LCAC) and other watercraft. The ships have steam or gas turbine propulsion making 70,000 hp. Currently LHDs 1-8 and LHA 6 are in service. The Navy awarded a contract for detail design and construction for LHA 7 to HII on May 31, 2012. The ship started fabrication on July 15, 2013. LHA 8 starts fabrication in the fall of 2018.
The San Antonio-class of landing platform docks (LPDs) continues building at HII in Pascagoula, Miss., with Portland (LPD 27) now delivered and awaiting an April commissioning in Portland, Ore. Two more are being built to the LPD specifications, but will also serve to transition the program to the LX(R) replacement for the 12 existing LSDs of the Whidbey Island (LSD 41) and Harpers Ferry (LSD-49) classes. The first of these 12 ships will reach age 40 in 2025.
Instead of designing an entirely new class to replace the LSDs, the Navy will create a less capable and less expensive variant of the LPD design. The next LPD, USS Fort Lauderdale (LPD-28), will be a transitional ship to incorporate some design features that will be found on future LX(R) ships.
Small Boys
The Navy has 11 mine countermeasures ships currently located in Bahrain, San Diego and Sasebo, Japan. Small coastal patrol boats (PCs) are forward deployed in Bahrain in support of the U.S. Fifth Fleet, as well as Mayport, Fla., supporting the U.S. Fourth Fleet.
Expeditionary
In addition to the amphibious ships, there are a number of other platforms that have a great deal of utility to conducting expeditionary operations.
The U.S. Navy's Military Sealift Command first two 764-foot Expeditionary Transfer Dock (ESDSs, formerly Mobile Landing Platforms (MLPs)), Montford Point (T-ESD-1) and John Glenn (T-ESD-2), are built on a commercial tanker design, and provide the ability to transfer material from large prepositioning ships to connectors such as LCAC for further movement to the beach. USS Lewis B. Puller (ESB-3) and sister ship Hershel "Woody" Williams (T-ESB-4) are expeditionary mobile bases (ESBs, formerly afloat forward staging bases (AFSBs)), based on the ESD but at 87,000 tons fully loaded are heavier, that can support mine countermeasures operations and Special Forces units. Both the ESD and ESB are built by General Dynamics NASSCO in San Diego.
The Expeditionary Fast Transport (EPF) was originally conceived as a joint Army and Navy program to provide intra-theater lift, but today EPF is demonstrating its value for highly specialized operational support assignments from ISR, support of unmanned systems and theater security cooperation. Built by Austal USA in Mobile, Ala., the diesel-powered 2,400-ton EPF is 338 ft. long with a beam of 95 ft., and can carry the load equivalent to 10 C-130 aircraft.
Direct Fleet Support
MSC operates combat logistics force (CLF ships to deliver fuel, ammunition and supplies directly to the fleet at sea. Multi-product fast combatant support ships (T-AOEs) can sustain a carrier strike group at sea, and keep up with them. Other CLF ships include fleet replenishment oilers (T-AOs) and the 14, 689-foot dry cargo/ammunition ships (T-AKEs). The 15 The Henry J. Kaiser-class T-AOs can carry 180,000 bbls of fuel. The 12 41,000-ton Lewis and Clark T-AKEs carry ammunition, food, 23,450 bbls of fuel, repair parts and ship store items (two of the T-AKEs are assigned to Maritime Prepositioning Ship squadrons).
The Navy is planning a new class of 17 fleet oilers. The John Lewis (TAO-205) class oiler, previously known as the TAO(X) program, is a program to build a new class of 17 fleet oilers for the Navy. The TAO-205 class ship was procured in FY2016.
Five-step Guide to the Fleet of the Future
Chief of Naval operations Adm. John Richardson, speaking at the Heritage Foundation on Feb. 1, set forth five dimensions to increase America's naval power.
"One way to increase naval power is just to build a bigger fleet. A bigger Navy is a more powerful Navy," he said.

"A second dimension of naval power would be to build a better fleet," Richardson said.

A more capable fleet might incorporate directed energy, high power microwave, lasers, electromagnetic maneuver warfare, unmanned and autonomous systems.

The third component is a networked fleet, and taking those platforms with their inherent and enhanced capability, and network them together. "If you're able to share data more across the force, you're able to respond to that awareness with more agility, and you can be a more powerful fleet," said Richardson.

The fourth dimension is a more talented fleet. "If you think about growing these other dimensions, growing naval power, at some point we're going to have to man that fleet with sailors," Richardson said. "There's a 'number of sailors,' dimension, but also the skill sets those sailors are going to need are different than the ones we have right now."

"So once we have built this fleet, we've modernized it, we've networked it, we've manned it with appropriately trained sailors, with the assistance they need, we've got to figure out how we're going to operate it," Richardson said.

The final dimension, Richardson said, is the potential of a "fleet in being."

"Turning that potential energy into kinetic energy requires readiness, and that means you've got to go out, you've got to steam, you've got to fly. You've got to have your magazines full. You've got to have your logistics element in place. You've got to have your parts. You've got to do the maintenance. All of those things creates actual fleet capability."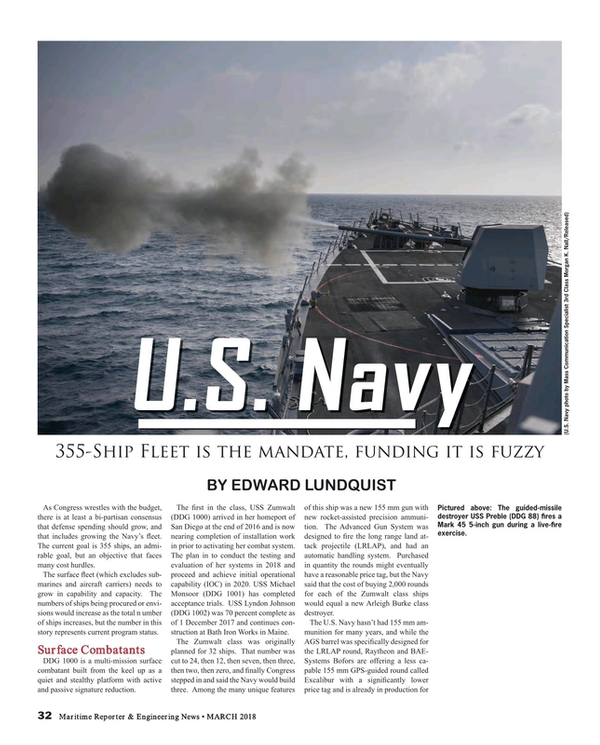 Read US Navy: 355-Ship Fleet is the Mandate, Funding It is Fuzzy in Pdf, Flash or Html5 edition of March 2018 Maritime Reporter
Other stories from March 2018 issue
Content