Wartsila-Powered Semisubmersible 'Drillmar Y Completed By ASTANO
Astilleros Y Talleres del Noroeste (ASTANO) of Ferrol (La Coruna), Spain, recently completed the semisubmersible drilling vessel Drillmar I for Drillmar, S.A.
The design, by Friede & Goldman, Ltd., is the latest version of their Pacesetter Class. Over 60 vessels have been built to this family of designs which, though similar in general appearance, vary considerably in size. The Drillmar I is one of the larger Pacesetters, with the capability of working in harsh environments and deep waters.
The Drillmar I has an overall length of 270 feet and overall beam of 203 feet. It has twin lower hulls, six stability columns, and the main deck is 116 feet above the base line.
The vessel is equipped with an allchain mooring system for 1,500-foot water depth consisting of eight Vicinay high holding Norshore-type anchors each weighing 30,000 pounds, and eight chains each 5,500 feet long of 3-inch-diameter K-4 type.
Two thrusters of 3,750 bhp are currently installed for propulsion and mooring assist. Four Pusnes Double Wildcat electrically driven windlasses are fitted with an emergency release system which permits movement away from blowouts even in the event of a total blackout.
Power for the semisubmersible is provided by four Wartsila diesels each delivering 2,865 kw at 6,000 V.
Propulsion and mooring assistance are provided by two AC motor-driven Schottel controllable-pitch thrusters. Control of the thruster in the mooring assist mode is through a Simrad APM 3000 position mooring system. Two diesel hydraulic cranes with 140-foot booms satisfy the cargo handling needs of the vessel.
Control of the ballast system as well as the other fluid transfer system is provided by a Simrad AIM Rig Management System (RMS), which also monitors all fire, gas and ventilation alarms as well as the power generation and thruster system.
The vessel is equipped to drill to depths of 25,000 feet in water depths up to 1,500 feet. Well control is through an 18-3/4-inch, 15,000-psi BOP and 21-inch-OD riser. The BOP is moved from its storage position to well center by means of a Maritime Hydraulics fork lift type carrier. Tension for the riser joints is provided by four dual 100 kip tensioners.
The two-level quarters house provides housing accommodations for 96 people in two-man staterooms.
The fully air-conditioned house also contains a six-bed hospital, two recreation rooms, two change rooms, galley, mess room, stores and bridge.
A helideck sized for a Sikorsky S61N extends forward from the roof of the accommodations.
For free literature on the facilities and capabilities of ASTANO, Circle 50 on Reader Service Card For more information on Wartsila Diesel engines, Circle 51 on Reader Service Card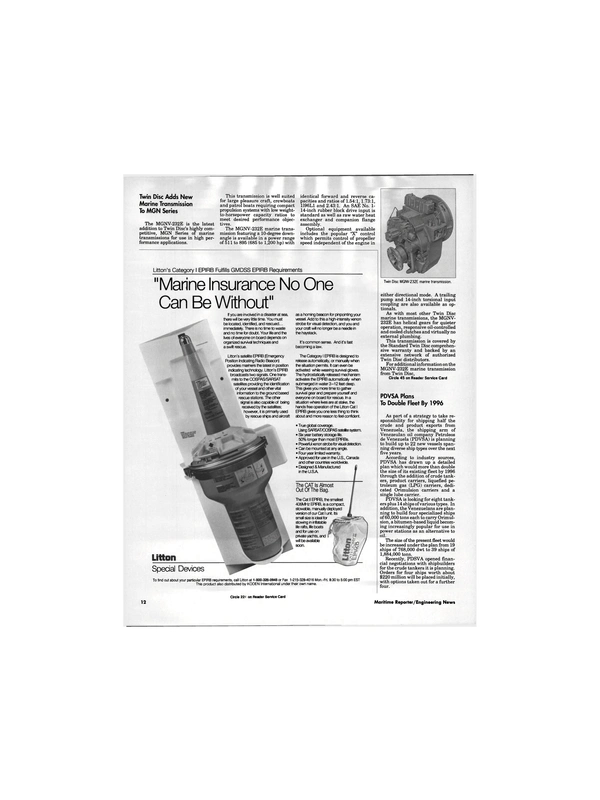 Read Wartsila-Powered Semisubmersible 'Drillmar Y Completed By ASTANO in Pdf, Flash or Html5 edition of May 1991 Maritime Reporter
Other stories from May 1991 issue
Content