T w i n Disc Expands M a r i n e Transmission Series For Workboat Applications
—New Free Brochures Available— Twin Disc, Inc., Racine, Wis., has expanded their popular MG-516 Marine Transmission Series with the addition of the model MG-5161, and has added a deep case version to their high performance MG-5111 Marine Transmission Series. Both new high capacity, compact reversereduction marine transmissions are designed for the rugged service encountered by diesel engine's in vessels such as fishboats, towboats, tugs, ferries, crewboats and other workboats.
The MG-516 Marine Transmission covers a power range of 235 to 447 kw (315 to 600 hp) and is offered in ratios 3.07:1, 3.50:1, 4.04:1, 4.52:1, 5.05:1 and 6.00:1. The MG-5161 covers a power range of 235 to 425 kw (315 to 570 hp) and is offered in two ratios—6.53:1 and 7.00:1.
Rated 475 hp at 1,800 rpm continuous duty for all ratios, both the MG-516 and MG-5161 models feature identical ratings and ratios forward and reverse when used with right-hand standard rotation engines.
The transmissions can also be set up for use with left-hand rotation engines driving through forward for ahead.
The MG-516 transmission is equipped with a torsional flexible coupling to fit standard SAE 14- inch flywheels and offers solid, predictable response through oil controlled and oil cooled forward and reverse clutches.
The MG-5111DC marine transmission, suited for the diesel engines in fishboats and workboats requiring low propeller speeds, is available in a power range of 164 to 421 kw (220 to 565 hp) with three optional transmission-mounted PTOs. The two identical capacity forward and reverse ratios, 3.92:1 and 4.95:1, make it possible to have either left or right-hand propeller rotation with identical right-hand engines. Transmissions can also be specified for use with left-hand rotation engines.
Rated 325 hp at 1,800 rpm continuous duty in all ratios, this transmission weighs only 771 pounds, which reflects the advanced design of the strong but lightweight highgrade iron housings. SAE No. 1 or No. 2 configurations are available.
The new gear/clutch technology and gearing/bearing/clutch arrangement allow for service of major components without removing the transmission from the engine.
The new transmissions can use Twin Disc's Trolling Valve option, which offers the ability to obtain lower propeller speeds than would be possible at engine idle with the clutch fully engaged, permitting greater maneuverability and control.
In addition, the marine transmis- sions carry the standard Twin Disc comprehensive warranty, and Twin Disc renewal parts and parts kits are available through authorized dealers.
For a free brochures on the MG- 511 deep case and MG-516 and MG- 5161 marine transmissions from Twin Disc, C i r c l e 1 2 on Reader Service Card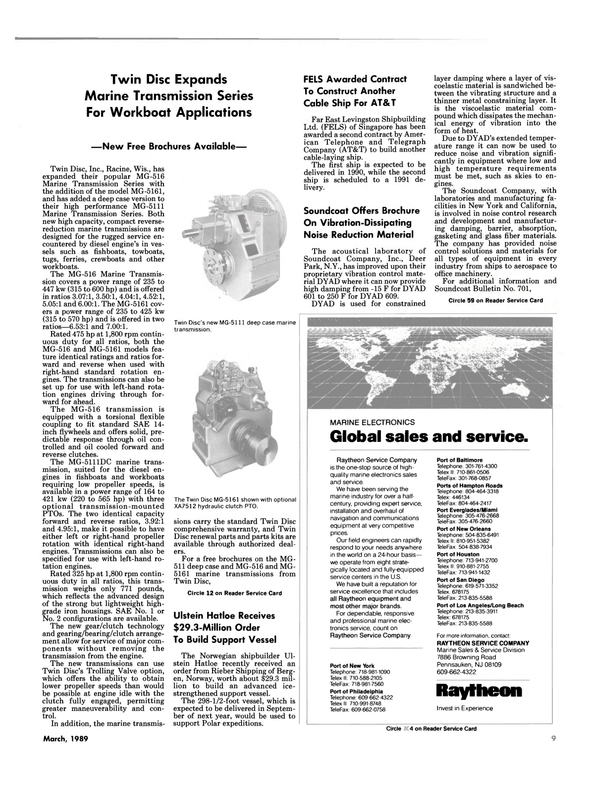 Read T w i n Disc Expands M a r i n e Transmission Series For Workboat Applications in Pdf, Flash or Html5 edition of March 1989 Maritime Reporter
Other stories from March 1989 issue
Content