Imperial Immersion Suits Save Lives; Survivors Get Club Membership
Joe Gilbert, Peter Goldstern, and Gary Marlar are just three members of an exclusive 400-member group, the Penguin Club, who have survived life-threatening storms and accidents at sea with the use of Imperial Immersion Suits.
Mr. Gilbert survived more than 20 hours of exposure after Hurricane Juan wiped out the oil drilling platform on which he was working several years ago.
Mr. Goldstern survived more than 10 hours after his plane went down in stormy seas in the North Atlantic. After abandoning his boat, Mr. Marlar survived 5 hours in the water before he was rescued.
"Of course, 400 is undoubtedly a small percentage of those who have had occasion to use Imperial suits in the 18 years they've been available," said Parkway/Imperial's president, Frank Sanger. Often the only motivation for speaking up about an incident is a survivor's request for a replacement storage bag for his suit—the bags are almost always lost overboard when the suits are needed in an emergency.
Parkway/Imperial honors anyone who documents an incident in which their life was saved through the use of an Imperial Immersion Suit by issuing a Penguin Club membership card, plaque, and replacement of their storage bag.
The South Amboy, New Jerseybased company reports it supplies well over half of the immersion suits sold in the U.S. The Imperial Immersion Suit was one of the first to receive the U.S. Coast Guard's approval under new rule-makings (IMO/SOLAS 73/84).
Immersion suits, formerly called "exposure" or "survival" suits, are required on certain inspected vessels (ships, tankers, MODUs) and are recommended by the Coast Guard on uninspected vessels.
The Imperial 1409A Immersion Suit features one-piece sealed construction with attached hood, boots, and gloves. A detachable hi-rider buoyancy ring with advanced inflator design reinforces built-in buoyancy of the neoprene material.
The suit protects against hypothermia and will not sink even if flooded.
Parkway/Imperial also produces high-quality drysuits, wetsuits, and other related equipment.
To submit information to Parkway/ Imperial about survival at sea using the Imperial Immersion Suit, and for membership in the Penguin Club, contact: Parkway/Imperial, 241 Raritan Street, South Amboy, NJ 08879; telephone: (201) 721- 5300; fax: 201-721-4016; telex: 844568.
For free literature detailing Parkway/ Imperial Immersion Suits, C i r c l e 1 0 o n R e a d e r S e r v i c e C a rd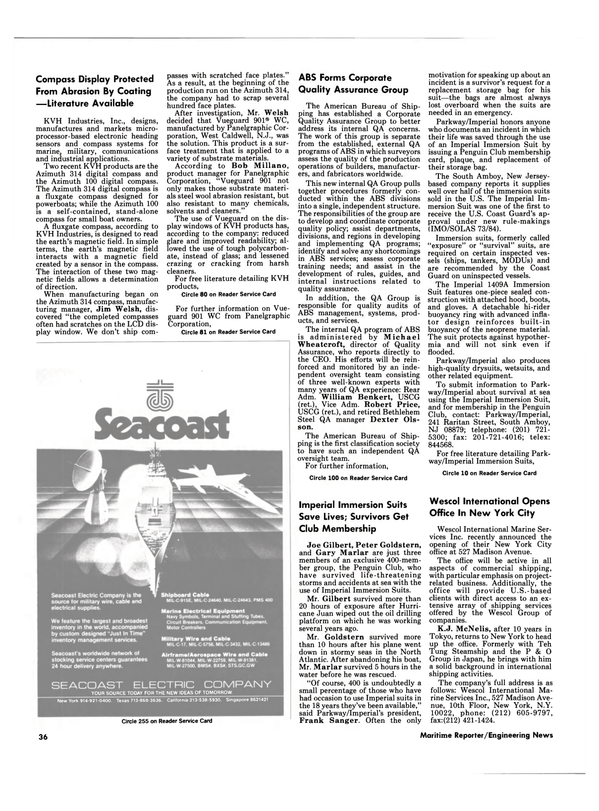 Read Imperial Immersion Suits Save Lives; Survivors Get Club Membership in Pdf, Flash or Html5 edition of March 1989 Maritime Reporter
Other stories from March 1989 issue
Content