New Engine Analyzer Reduces Fuel Costs On Marine Diesels
—Literature Available The new BETA 250 from PMC/BETA Corporation, Natick, Mass., is a dedicated, microprocessor- based marine engine analyzer that enables an operator to determine the condition and efficiency of main propulsion engines and ship service diesel generators. The company reports this can result in 5 to 15 percent lower fuel costs, reduced maintenance costs and increased engine output.
The data furnished by the BETA 250 enables more accurate loading and tuning of engine cylinders to improve operating efficiency. Also, the early detection of mechanical flaws such as broken or cracked rings and improperly operating valves permits corrective action before such flaws cause needlessly expensive repairs and reduced efficiency.
Cost benefits are accrued through: (1) deter mination of cylinder combustion efficiency by evaluating cylinder pressure versus crank-angle diagrams and by measuring cylinder HP, MEP, peak pressure and angle of peak pressure; and (2) evaluation of the output of vibration and ultrasonic transducers versus crank-angle to determine mechanical condition.
A four-trace CRT displays cylinder pressure versus volume diagrams, pressure versus crankangle diagrams, and vibration or ultrasonic versus crank-angle.
In addition to the CRT displays, five digital panel meters display such cylinder performance information as rpm, peak pressure, angle of peak pressure, horsepower and mean effective pressure.
An instant replay capability lets users capture, store and playback, one frame at a time, the pressure data from the 16 most recent engine revolutions. Thus, the P-V curve of a particular engine revolution can be displayed and analyzed as in real time.
For free literature detailing the BETA 250, C i r c l e 9 3 on Reader S e r v i c e C a rd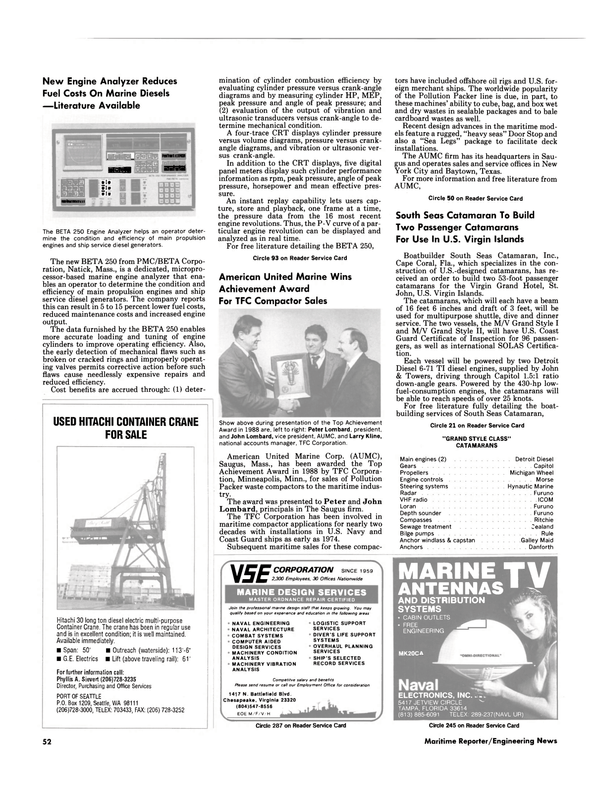 Read New Engine Analyzer Reduces Fuel Costs On Marine Diesels in Pdf, Flash or Html5 edition of March 1989 Maritime Reporter
Other stories from March 1989 issue
Content