Cummins-Powered 'Traktor Jet' Gives Workboats Unprecedented Thrust
Shallow-draft workboat operations are beginning to be revolutionized with the introduction by North American Marine Jet Inc. of Benton, Ark., of a new diesel-powered waterjet propulsion unit that produces more than 3,000 pounds of static thrust at 150 horsepower.
Tradenamed the "Traktor Jet" because of its pulling power, the unit is powered by a Cummins 4BT3.9-M diesel engine developing 150 horsepower at 2,800 rpm.
The Traktor is ideal for fishing boats and workboats where thrust is more important than speed. Other waterjet propulsion units are more suited for high-speed boats than for vessels needing maximum thrust at low speeds. The 18-inch axial flow jet propulsion unit can pump six (55-gallon) barrels of water per second.
Following extensive research, North American determined that Cummins was best for the propulsion unit's power source. Among the Cummins 4BT advantages were the engine's high horsepower (150) to weight (860 pounds) ratio, its low fuel consumption (7.6 gallons per hour at rated speed), competitive purchase price, and the fact that the engine is manufactured in the U.S.
Leonard Hill, president of North American Marine, said he prefers to have ail-American components in the Traktor package because of the availability of parts and service. He noted that Cummins has set up special service centers, which are essential for operations in remote locations such as in Alaska.
The entire package of the Traktor is factory assembled on an aluminum "Skid Pak," an integral base section that can be welded directly into a boat, becoming the middle section of the boat's bottom.
The Hurth transmission is a HBW 450 equipped with a positively driven, mechanically operated helical gearing system. The 3:1 gear box allows the Traktor to operate at 600-rpm shaft speed for midrange performance. The HBW also permits direct reversing for back flushing the jet drive.
The Traktor's cartridge-type thrust bearing package is designed to have life of more than 10,000 hours and can be replaced in less than 30 minutes—in the water— with no special tools. And the 11 impeller blades can be replaced individually.
Damaged blades can be replaced with minimal downtime.
Quiet Cove Enterprises of Anacortes, Wash., has built the first production model of the Cumminspowered Traktor, the Kodiak King, which will operate in the Kodiak area salmon and herring fisheries.
Quiet Cove has orders for four more Cummins-powered Traktor-propelled skiffs, all for the Southeast Alaska salmon fisher.
Besides commercial fishing, Mr.
Hill sees potential applications for the Cummins-powered Traktor Jet in other types of vessels, such as shallow-draft tour.
For free literature on the North American "Traktor Jet," Circle 16 on Reader Service Card For more information and free literature on Cummins Engines, Circle 17 on Reader Service Card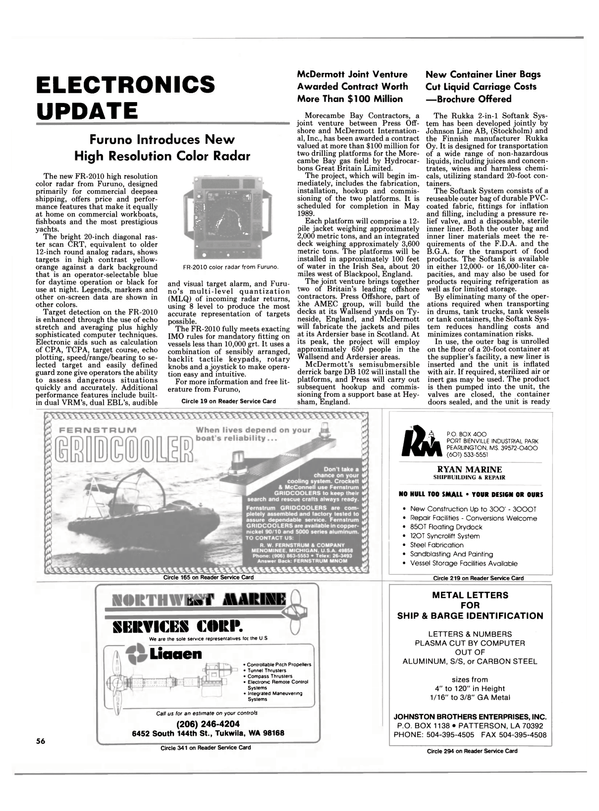 Read Cummins-Powered 'Traktor Jet' Gives Workboats Unprecedented Thrust in Pdf, Flash or Html5 edition of February 1988 Maritime Reporter
Other stories from February 1988 issue
Content