SUNY Maritime: Bridging the Competency Gap
By Joseph Keefe
SUNY Maritime's Cutting Edge Tug & Barge Simulator fills an enormous training hole in the tri-state area.
When Morton S. Bouchard, III, maritime and political dignitaries officially opened the Bouchard Transportation Co., Inc. Tug & Barge Simulation Center on the campus of the State University of New York (SUNY) Maritime College last October, it opened a new era in maritime transportation for SUNY cadets and professional mariners in the greater New York area. That's because the only other available simulator in the area had long since been moved to the Gulf Coast. With the snip of a ribbon by an oversized pair of ceremonial scissors, however, that situation was immediately resolved.
Captain Robert Glas, Vice President of Regulatory Affairs at Bouchard Transportation made the traditional ribbon cut, as Morton S. Bouchard, III, his two sons, US Congressman Joseph Crowley, RADM Michael Alfultis, USMS, Ph.D., President of SUNY Maritime and a host of industry executives and dignitaries looked on. The simulation center was funded by a gift from Bouchard Transportation, the largest independently owned ocean-going petroleum barge company in the United States.
SUNY Maritime College is the oldest and largest of the seven maritime academies in the nation. Founded in 1874, SUNY Maritime is a four-year college which offers a solid academic program coupled with a structured cadet life in the regiment for both men and women, or a civilian program. Maritime offers undergraduate and graduate degrees with the option of either US Coast Guard license or intern programs, summer training cruises abroad, ROTC options, and 15 varsity athletic teams. This year the College celebrates its 140th anniversary year, but the training now available will be anything but 'old school' for future users of the academy's growing simulation training assets.
Morton S. Bouchard, III perhaps put it best when he said, "The contribution is to, first and foremost educate the cadets that go to school here (SUNY Maritime), to give them a good foundation when they graduate to come and be employed in an industry that is booming and lacking qualified employees right now." He added, "We partnered with SUNY Maritime to build a first-class simulator on campus that would not only benefit cadets, but would benefit our employees. We're going to do our training here with our captains and mates." Without a doubt, they'll do so on some of the most modern equipment available.
Kongsberg State-of-the-art Equipment
The Bouchard Transportation Company, Inc. Tug and Barge Simulation Center is the latest in Kongsberg Polaris Bridge simulation technology, utilizing an industry-inspired bridge console arrangement, with the latest hydrodynamic ship models and exercise areas. The Center offers full mission bridge simulators, instruction stations, and a de-briefing area, where instructors can discuss topics including navigation, seamanship and bridge resource management skills required in the operation of tugs and barges.
According to Eric Johannson, SUNY Maritime's Vice Chairman, Professional Education & Training Department, Kongsberg simulation features high end hydrodynamics, as well as the ability to steer the tug into the tug notch and connect with either wire push gear or PINS (ATB). He adds, "This is a very high end feature. Each connection method has dead on degrees of freedom and handling characteristics." At SUNY, attention will be given to the complexities of all operating tugs and barges, ranging in size from 3,000 to 12,000 horsepower, which carry all types of commodities. The Center creates new opportunities and better prepares future and current professionals for successful careers in the maritime industry.
Target Markets
While the simulation center was funded by Bouchard and features replica simulation models of the Bouchard fleet and will serve to train and maintain Bouchard seamen, the center is first a critical resource for SUNY Maritime cadets. It is also open for business industry companies and professionals. SUNY Maritime continues to invest in the latest simulation technologies for its students and corporate clients. Not content to sit on their hands, SUNY will augment the new center in early 2015 with a new Engine room Simulation Center and a new Liquid Cargo Handling System Simulator.
Morton Bouchard III sums up the effort nicely by insisting, "Training and education is 200% more today. You cannot be profitable in this industry unless you are safe," he said, adding "You cannot be safe unless you train, but that's not only in the simulator, it's every day on these vessels. The captains in our company are held to the highest standards to be safe, and that is the only way that you can be profitable."
For SUNY Maritime, the first priority for simulator training focuses on Deck Cadets in the Towing Program seeking Mate 1,600 Ton license for STCW Bridge Resource Management and boat handling skills. Externally, the simulator will be marketed to Towing Companies for STCW Bridge Resource Management, Ratings Forming Part of a Navigation Watch, CAPT/MATE Evaluations, MATE Training Programs, and more. The Kongsberg Tug Barge Simulator joins a multitude of state of the art modern training simulation offerings as follows: Tank Barge, ECDIS, GMDSS, Navigation, RADAR, and Engine Simulation. SUNY's Johansson adds, "Maritime College is a one-stop-shop for all Tug and Barge industry training needs and we welcome the opportunity to train mariners in both scheduled classes and industry specific training modes."
It is clear that Johansson means what he says. Appropriately enough, the 15th Annual Towing Industry Forum, organized for the past 15 years by Captain Eric Johansson, served as the venue for the opening of the new Simulation Center at the New Academic Building on the SUNY Maritime Campus. The annual Towing Industry Forum is an intimate event drawing just over 100 industry executives, including many of the country's most prominent workboat companies and U.S. Coast Guard personnel. In other words, the perfect backdrop for what's to come next. Training on this state-of-the-art Center ensures that students enrolled at the College, and professional mariners alike, are well-educated and trained in a controlled environment.

Deep Ties + Effective Partnerships = unlimited potential
Bouchard Transportation Co., Inc. has a wonderful history with SUNY Maritime College. Each year it awards scholarships to several deserving students. The company also employs many Maritime alumni following their graduation. The official opening of the Bouchard Transportation Co., Inc. Tug & Barge Simulation Center is just the latest example of its generosity bestowed upon the SUNY Maritime campus. For example, and in 2011, Mr. Bouchard established the Morton S. Bouchard Jr. Scholarship Program at SUNY Maritime in memory of his father.
Reflecting on the relationship, Bouchard III offered, "I am very proud of this investment, and yes, Bouchard wheelhouse employees will do their required training at the BOUCHARD TUG & BARGE SIMULATION CENTER. I believe anytime a company can make an investment that will educate students and employees, and at the same time make operations safer, it is an investment worth making. It will pay dividends in the future for all involved."
Eric Johansson took it a step further, saying, "The Bouchard investment with Maritime College is a testament to Bouchard's generosity true commitment to safety and Maritime Colleges Commitment to the Towing Industry. The Kongsberg Tug Barge Simulator is specifically built to server the towing industry benefiting mariners from Cadet to Captain. We are very grateful to Mr. Bouchard for his unconditional support and this Simulator will serve the entire region and beyond for training needs."
In return, SUNY Maritime and its growing, high-tech simulation center provide the same support to maritime professionals everywhere. Eric Johansson explains, "In terms of research, our first concern will be resource management by area of operation – Ocean, Near Coastal, Inland, and Rivers, Tugboat maneuvers, emergency management, and mariner development/assessments. Additionally, we hope to utilize simulation for infrastructure siting studies, new terminal operations, and special circumstance marine evolutions."
That sounds like a more than fair return on investment for Morton Bouchard III, but he would be the first to tell you that this is about more than just money. Dividends come in many shapes in forms. In this case, it's the waterfront – brown water mariners in particular – who reap the rewards. The Bouchards and SUNY Maritime wouldn't have it any other way.


(As published in the January 2015 edition of Marine News - http://magazines.marinelink.com/Magazines/MaritimeNews)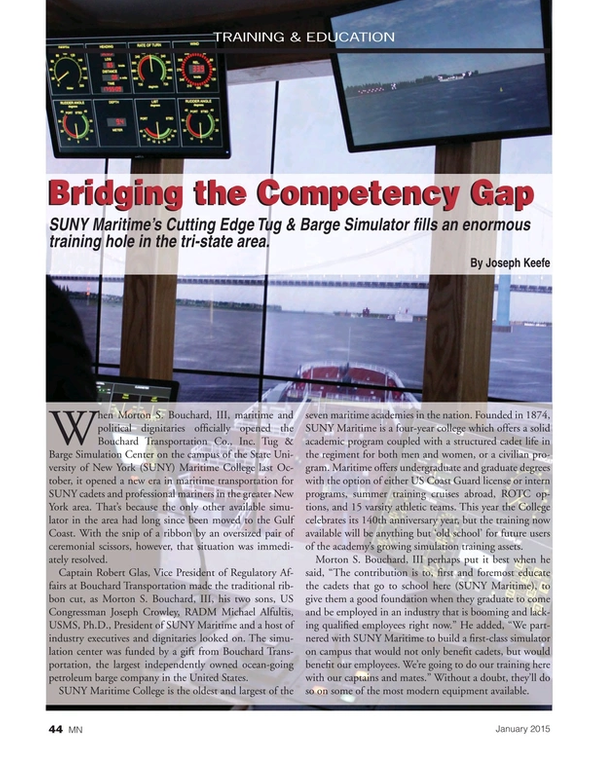 Read SUNY Maritime: Bridging the Competency Gap in Pdf, Flash or Html5 edition of January 2015 Marine News
Other stories from January 2015 issue
Content