Unique Propulsion for Unique Workboat Applications
By Joseph Keefe
Customized application for multi-missioned workboats recognizes that all workboats have more than one job.
In an increasingly expensive market for workboats, any advantage that can be leveraged to save time, money, fuel and deck space on the job is a precious commodity. One way to do just that, perhaps taking a page from the U.S. Coast Guard's playbook, is to consolidate multiple missions onto fewer vessels. And, the gold standard in equipment to make that happen may well be packaged in NAMJet's advanced marine propulsion systems. For more than 25 years, NAMJet products have provided thrust, durability, and speed for a wide variety of commercial, military and workboat applications. A common misconception among industry professionals is that thrust and speed must be sacrificed to move heavier loads, a notion disproven by TRAKTOR Jet's high-thrust, large-displacement systems. The NAMJet TRAKTOR Jet line of high-thrust marine jets is designed to withstand brutal workboat conditions while remaining fully customizable to meet the standards of the world's most demanding operators, in vastly diverse markets and conditions. This month, we outline the output of two Norwegian builders, why they chose the NAMJet solution and how that is important. Neither firm is affiliated with the other, but it is no secret that Norway's oil & gas community loves marine jets. The region's large, untapped offshore oil and gas resources cry out for a workboat solution that provides both great thrust and Bollard pull attributes that make them perfect for the Norwegian environment.
Norway's Maritime Partner AS Opts for NAMJet
Maritime Partner ASA's MP 1111 FRDC TWJ (Fast Rescue Daughter Craft - Traktor Water Jet) is designed, built and equipped to comply with MSA`s regulations for the Norwegian Maritime Directorate's requirements for Fast Rescue Craft for Offshore units. The builder is a globally recognized designer and supplier of workboats, fast rescue boats, patrol boats and daughter craft in the range from 5-25 meters. A long time customer of NAMJet, Maritime Partner can offer a boat which few can match, primarily on the strength and versatility of the NAMJet propulsion system.
The hull is built of marine aluminum, fully planning with a deep V-bottom construction, suitable for high speeds. The superstructure is made either by marine aluminum or GRP sandwich construction, providing shelter and seating for six persons and one stretcher. MP 1111 FRDC TWJ is built to give maximum safety for the crew and is self righting. The hull is filled with special foam with closed cells, and this makes the boat unsinkable. The strength of the hull and superstructure is sufficient to withstand all normal forces encountered under normal use offshore at maximum boat speed. The superstructure can be customized to carry up 35 persons.
Significantly, the MP 111 FRDC is also built for towing loads of up to 8,000 kg. Typically, a utility boat has to pull a long boom – sometimes 11 meters long. Combining the speed necessary for a fast rescue craft with the bollard pull of a utility boat might be a tricky proposition, were it not for the vessel's twin NAMJet Traktorjet 431 waterjet pack.
The craft is equipped with a lifting arrangement provided by Maritime Partners with an approved release hook for safe launch and recovery from the mother vessel/oil rig. And, because the vessel performs two tasks – fast rescue standby and real workhorse tasks - the space savings on deck is impressive.

Westplast AS Selects NAMJet Propulsion for Seismic Vessel
Separately, Norwegian shipbuilder Westplast AS has also chosen Arkansas-based NAMJet to provide propulsion solutions for its newest seismic survey vessel, the WP950. Designed as a global support platform for oil and gas industry seismographic research, the WP950 – like many workboats – also has a multi-missioned role and will be used for streamer cable replacements. The boat is powered by twin 295-horsepower (hp) Yanmar diesels paired to twin TRAKTOR Jet TJ 381 (15-inch) waterjets capable of propelling the 31-foot, 15,653-pound (7100 kg) craft to top speeds of 28 knots. In addition to its impressive speed, the vessel's TRAKTOR Jet propulsion system also provides 6,393 pounds (2,900 kg) of Bollard Pull.
When the initial design of the vessel began in September of 2011, the builder realized that Westplast's unique hull design and performance characteristics would require several custom modifications to NAMJet's TJ 381 propulsion platform. "The hull design required us to shorten the TJ 381s by six inches," said NAMJet General Manager Jim Ducker. "We also custom-designed a water pickup system, intake knife system, and shaft tube protection system. Finally, we added a grease-lubricated bearing pack that allows the system to be run even if it's out of the water." The Westplast has to be deployed at speeds of as much as five knots; hence the ability of the vessel to get away from the mothership quickly and safely is critical. To do this, the support vessel must be capable of dry running its jets. This is not possible with traditional, water lubricated bearings. This allows boat to get away from streamers and the mother hull quickly and without fouling.
The boat's initial success spurred an order for three additional boats, the first of which will be delivered in mid-January of 2013, with additional vessels following suit in February and March. Plans are also in the works for another nine vessels to be completed in 2013 and 2014. "NAMJet's custom manufacturing capacity and design flexibility made them the ideal propulsion solution for the WP950," said Hallgeir Skorpen, Westplast's Managing Director. "The boat has met with fantastic success thus far, and we look forward to great things from our partnership."

The NAMJet Advantage
According to NAMJet's General Manager Jim Ducker and VP of Sales Jason Hill, the advantages of the NAMJet solution over some bigger, perhaps better known names are many, but can be primarily distilled down to five principal areas.
Combining high speed capabilities with 9,500 pounds of bollard pull isn't rocket science, but it could save you a lot of money. It also exemplifies the advantages of a versatile, customizable propulsion system that transforms one vessel into a multi-missioned workhorse. The fact that this solution is so popular in the oil fields of offshore Norway – where oil industry innovation typically begins before being exported to the rest of the world – shouldn't be surprising. In this case, however, a U.S.-based propulsion provider is exporting the solution in the other direction. That's not surprising, either. That's NAMJet.
(As published in the May 2013 edition of Marine News - www.marinelink.com)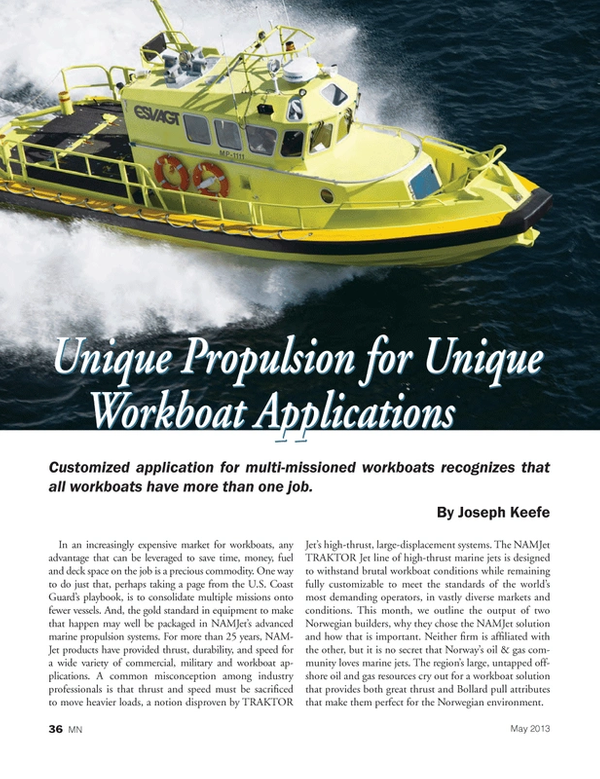 Read Unique Propulsion for Unique Workboat Applications in Pdf, Flash or Html5 edition of May 2013 Marine News
Other stories from May 2013 issue
Content